Avocado's zijn erg gezond en het is dan ook niet gek dat steeds meer mensen deze vrucht graag willen eten. Wanneer je nog nooit eerder een avocado hebt gegeten, kan het wel lastig zijn om te bedenken hoe je de avocado moet eten. Gelukkig zijn er meerdere goede manieren. Wij hebben de beste tips voor je!
Hoe kun je een avocado eten?
Een avocado is een fruit die voornamelijk als groente wordt gegeten. Omdat een avocado een bijzondere smaak heeft, is het voor sommige mensen niet meteen duidelijk hoe ze avocado het beste kunnen eten. Hoe maak je het bijvoorbeeld klaar? Wat kun je hier nou precies mee doen en hoe kun je avocado eten?
1. Rauw eten
De avocado is het lekkerste wanneer deze rauw wordt gegeten. Je hoeft het dus niet te koken of bakken. Sterker nog: de beste voedingsstoffen verdwijnen wanneer je het opwarmt en de avocado kan ook wat bitter worden als je het echt gaat bakken of koken.
2. Doe avocado in een salade
Avocado kan heel goed samen worden gegeten in een salade. Het wordt bijvoorbeeld vooral veel gebruikt in maaltijdsalades, omdat de avocado veel calorieën en gezonde vetten bevat. Ook lekker is het in een salade met een honingdressing en stukjes walnoot. Je kunt het ook prima combineren met rucola of balsamicoazijn.
3. Avocado in de Mexicaanse keuken
De avocado wordt ook veel gebruikt in Mexicaanse gerechten. Zo kun je er bijvoorbeeld Guacamole van maken. Dit is heel makkelijk te maken. Prak de avocado en doe dit op zo'n manier dat er nog wel stukjes in te zien zijn. Daarna doe je er stukjes gesneden of geperste knoflook doorheen. Ook doe je er een gesnipperde rode uit doorheen en wordt er vaak een gesnipperde chilipeper in gedaan. Ook kun je er nog zout en citroensap aan toevoegen. De guacamole kan worden gebruikt als dipsaus, bijvoorbeeld bij nacho's of taco's.
Maar dat is niet het enige. Ook in andere Mexicaanse gerechten kan de avocado goed worden gebruikt. Doe bijvoorbeeld wat stukken ervan in je wrap of in een salade die je bij een Mexicaans gerecht.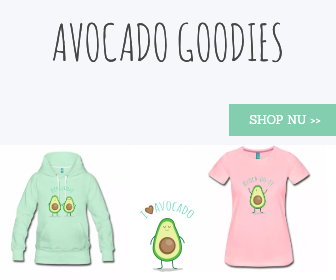 4. Door de pasta
Bij pasta denken we vooral aan tomatensaus of roomsaus, maar je kunt ook een lekkere pastasalade maken met avocado. Doe de avocado dan op het laatst erdoor, zodat het niet te veel opwarmt. Je kunt het ook nog mengen met wat creme fraiche, waardoor je een lekkere saus kunt maken. De groene kleur bij de pasta is wellicht even wennen, maar wel zeer smakelijk.
5. Avocado op brood
Avocado kun je ook heel goed op brood doen. Je kunt een avocadospread maken en deze op brood smeren, maar er zijn ook nog andere opties. Zo kun je er bijvoorbeeld allerlei lekkere ingrediënten bij doen. Denk aan banaan, aardbeien, kipfilet of komkommer. Als je het brood vooraf toast, dan is het ook lekker knapperig en smaakt het heerlijk in combinatie met avocado.

Hoe vaak avocado eten?
Te veel hetzelfde eten is nooit goed, want afwisseling in je eetpatroon is erg belangrijk, maar het kan helemaal geen kwaad om regelmatig avocado te eten. Er zitten namelijk erg veel goede voedingsstoffen in de avocado, en deze kun je best met regelmaat binnenkrijgen. Maak je niet te veel zorgen om de hoeveelheid calorieën, want een avocado bevat vooral goede vetten die je langer een verzadigd gevoel geven. Je lichaam heeft dit soort goede vetten juist nodig. Je mag dus best regelmatig avocado eten. Bijvoorbeeld iedere week of zelfs vaker. Let er wel op dat de rest van je voeding erg gevarieerd is.