Avocado's zijn niet alleen erg lekker, maar ook ontzettend gezond voor je. Er zitten talloze voordelen verbonden aan een avocado. Genoeg redenen om ze dus te verwerken in een smoothie. Wij hebben een aantal heerlijke recepten voor je op een rij gezet!
Over de avocado
De avocado is goed voor je. Zo kan het de symptomen verminderen van artritis en kan het worden gezien als een ontstekingsremmer. Ook is de avocado heel erg goed voor je bloedsuikerspiegel en je huid. Het kan daarnaast je eetlust verlagen en helpt om een beter immuunsysteem te creëren. De avocado is goed te gebruiken in een smoothie, bijvoorbeeld in combinatie met andere groente en fruit. De smaak van de groente valt vaak niet eens zo op, omdat het fruit zo lekker zoet is.
Is een avocado smoothie geen dikmaker?
Avocado wordt vaak gezien als dikmaker, omdat er veel vet in zit. Het is goed om te weten dat avocado bestaat uit verzadigde vetten en dit heb je juist nodig in een gezond eetpatroon. Het is dus niet direct een dikmaker. Dat is het pas als je het overdreven veel eet. Avocado bevat echter ook veel vezels, waardoor je veel sneller vol zit. Het is dus geen enkel probleem om avocado binnen te krijgen. Je hoeft dus niet bang te zijn om avocado smoothies te drinken. Ze zijn juist goed voor je!
Lees ook: Alles over avocado's en calorieën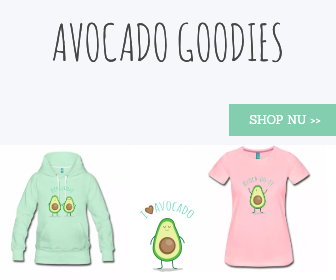 Hoe maak je een smoothie?
Voor een smoothie heb je sowieso een blender nodig. Als je die eenmaal hebt is het allemaal vrij simpel. We hebben een aantal recepten voor je op een rij gezet, die heel gemakkelijk kunt maken als je een blender hebt.
Smoothie met avocado, peer en kiwi
Nodig:
Halve avocado
1 peer
1 kiwi
100 ml melk
100 ml water
Snij de peer, kiwi en avocado in grove stukken. Doe daarna alle ingrediënten in de blender. In plaats van melk zou je ook amandelmelk kunnen gebruiken. Handig voor mensen die lactose-intolerantie zijn.
Avocado smoothie en tropische vruchten
Nodig:
Halve avocado
50 gram bevroren mango
50 gram bevroren ananas
100 ml water
Honing naar smaak
Snij de avocado
en doe de overige ingrediënten in een blender. Zet aan en maak er een smoothie van. Wil je dat het een romigere smoothie wordt, voeg dan ook wat melk toe.
Bessen avocado smoothie
Nodig:
Kwart avocado
1 banaan
100 gram bessen
50 gram spinazie
200 ml water
Snijd de banaan en avocado en doe alle ingrediënten in de blender. Dankzij de banaan krijgt de smoothie een lekkere romige smaak.
Wissel af
Het kan erg helpen om af te wisselen met de smoothies. Probeer gewoon eens wat fruit in combinatie met je avocado. Als je er extra groente in wil doen, kan groente zoals komkommer, boerenkool of spinazie een goede optie zijn. Het is ook mogelijk om kruiden, zoals gember of munt toe te voegen. Wanneer je zelf combinaties probeert, ontdek je soms bijzondere smaken waarvan je geen idee had dat ze lekker waren. Het is ook mogelijk om de bovenstaande recepten een beetje aan te passen.